High Tea and Sweet Treats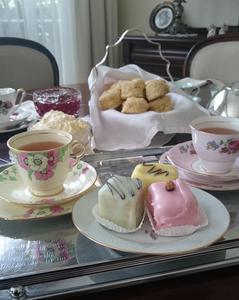 So, really what is High Tea?
Do you sit at a high table?
Do you have to dress up and wear fancy gloves?
Well, Lady Fredericks, the 7th Duchess of Bedford is credited as establishing the ritual of afternoon tea.
In the 17th Century she would entertain her female guests, while the gentlemen attended to the issues of politics and business.
The Duchess recorded details of hosting delightful tea parties to allow women an elegant social opportunity to meet and discuss issues that were usually unsuitable to discuss in the company of gentlemen.
Since this time, the practice of afternoon tea, or high tea as it came to be known in Britain, become a well loved tradition.
For the ladies of the English 'leisure class' high tea served a practical purpose of allowing ladies the pleasure of enjoying a delicate meal before attending the theater or a club.
Today, the practice of high tea continues with the modern 'Lady of Leisure' enjoying a high tea party at bridal and baby showers, gathering her closest friends to celebrate special occassions such as Baby showers or hens parties to birthday parties or any reason to sample delicious petite cakes and pastries at kitchen high teas.
So you see there is no need to sit at a special tall table.

Mailing List Sign Up
Sign up for our event newsletter, it features tips for entertaining, fundraising events and more.